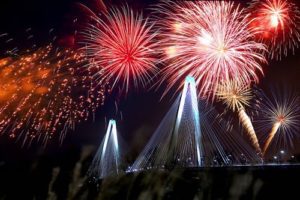 Do you know what July in Charleston means? That means cookouts, vacation, sun, sand, the ocean and lots of fun events in our beloved city! There's great music coming to town this month as well. The boys of summer are at it again at Joe Riley Stadium. It's anyone's guess what Riverdogs owner Mike Veeck might come up with next; especially if his partner in crime, Bill Murray is in town.
Here is your July calendar of events:
1: 5th Annual History Fair, Magnolia Plantation
2: Mountain Music Festival, Fresh Fields Kiawah
4: Fireworks displays from Yorktown, N Chas Riverfront Park, Folly Beach, etc
4: Uncle Sam Jam Party, Mt Pleasant Waterfront Park
4: Reading of Dec of Independence at Old Exchange at 10:30am followed by March to St Phillips Church by the Washington Light Infantry, followed by Charleston Wind Symphony 4th of July Spectacular at St Phillips Church
6-8: MegaDock Billfishing Tournament Governor's Cup, City Marina
8: Gromfest Surf Contest, Folly Beach
12: Cody Jinks, Music Hall
13: Steve Earle, Music Hall
14: Surf in the City, Music Hall
15,16: Longboard Surfing Invitational, Folly Beach
15: Shaggin' on the Cooper, Mt Pleasant Pier
21: Reggae Nights, James Island County Park
22: Hank Williams Jr, Volvo Car Stadium
23: Jason Isbell, N Chas PAC
26: Lost in Translation, Music Hall
29: Palmetto Paddle, Brittlebank Park
30: Patty Griffin and Lee Ann Womack, Music Hall
The Charleston real estate market is still booming and we're on pace to break sales records in 2017. Last year was the 2nd busiest year ever by only a few transactions. So far, we are up 9% over 2016. The economy is roaring along with 3.1% unemployment. Boeing is doing quite well and has led to Volvo building a new plant west of Goose Creek. BMW in Greenville is shipping 700-1000 cars each day through Charleston. When Volvo's Berkeley plant is up and running, they expect to ship 30,000 vehicles in 2018 through the port. We have incubators all over town where young professionals are working on the next hot technology. Getting voted #1 city 4 times in a row has drawn a lot of attention our way. The world has found us and they are coming! If you are coming to call Charleston home, give your local lender a call and schedule a face to face meeting or to speak on the phone: Zach Larichiuta and his Lucy Lending Team are dedicated to making your mortgage lending experience an amazing one and to develop not just lifetime clients, but friends! Have a great 4th!!!
Zach and the Lucy Lending Team
www.charlestonmortgagelender.com
zach@lucylendingteam.com
843-469-9010
#july #calendar #events #local #community #charleston #chs #trusted #lender #mortgage #financing #loanofficer #zachlarichiuta #lucylendingteam