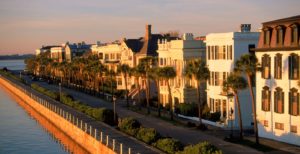 Charleston, South Carolina: the largest and oldest city in the entire state. This gorgeous port city, which was founded in 1670, has been around to witness America's best and worst moments. It's now evolved into a festive, bustling town that anybody would be lucky to lay eyes on. Charleston represents a harmonious marriage of the past and present, where visitors in this 21st century town can still explore the remnants of America's colorful past by taking a stroll down Charleston's cobblestone roads. Charleston is home to a large number of historical buildings, which directly resulted in a prosperous tourism market. Furthermore, Charleston has been recognized and awarded for many of its charms by publications such as Fast Company, Travel + Leisure, Forbes and Business Insider. Residents of this southern city are able to enjoy the many benefits it offers; however, if you still aren't convinced that Charleston is the bee's knees, experience it yourself. You'll be a believer by the end of this article. Here are six reasons why Charleston, South Carolina is the perfect home for you.
Charleston's Strong Economy
Let's just get this fact out of the way because this reason is usually the first aspect people look at when considering a move. Is Charleston's economy liveable? Absolutely! Today, Charleston has gained fame primarily for its technology market and tourist attractions. The city has quite a collection of well-preserved historical sites, making it a paradise for any history buff (or tourist who is interested in acquiring a bit of American history.) Since millions of tourists flock to this city annually, enjoying the historical sites and the stunning beachfront, the hotel industry greatly benefits from the active tourism scene. Another important characteristic regarding Charleston's local economy is the strong presence of a technology industry.
Enter: Silicon Harbor
. Located approximately 2,740 miles away from Silicon Valley, Silicon Harbor is home to more than 250 technology companies that employ 11,000 people. The flourishing tech scene has allowed Charleston to grow into the number 1 mid-sized US metro area for IT growth. That's pretty impressive considering Charleston's size in comparison to tech giants like the Silicon Valley, New York City, and Austin. Higher education is also another contributor to Charleston's economy, as many residents are employed by institutions like the Medical University of South Carolina, College of Charleston, The Citadel, The Military College of South Carolina, and the Charleston School of Law, to name a few.
Foodies
Welcome Here
Charleston's culinary renaissance is a fairly recent phenomenon, though it did not happen overnight. The catalyst that triggered Charleston's food-fueled metamorphosis was the first Food and Wine Festival in 2006. This said, Charleston's culinary scene holds deep southern roots. Lowcountry cuisine has been around as long as Charleston itself. Now, it's been elevated a bit. Chefs and other culinary experts from all around the nation flocked to the city where Charleston's food scene grew and prospered after word about the festival spread. Today, Charleston is famous for its delectable seafood, old fashioned Southern cuisine, and brunch. As a matter of fact, we could dedicate an entire book about Charleston's shrimp and grits, but it'd probably be more beneficial for you to go and actually see for yourself.
They don't call it Southern hospitality for nothing
If you aren't familiar with how Southerners roll, allow us to give you a basic run down: we adore sweet tea, put hot sauce on almost everything, and we're friendly. Real friendly. Southerners aren't afraid to greet total strangers on the street or strike up a conversation, and Charleston isn't an exception. As a matter of fact, Charleston is so incredibly friendly that it has been listed as one of
America's friendliest cities
on more than one occasion. Folks who come to Charleston note that the city not only exudes that genteel, warm Southern charm, but it also designed to make everyone in it feel welcome, comfortable, and safe.
Take a step back in time
It's no surprise that a city founded in the 1600s would hold a lot of history, but Charleston has a certain past that can't be appreciated until you explore it for yourself.  The list of historical sites is endless, so where should you visit? Living in a town with such rich history can prove to be beneficial, as it is never a bad idea to learn something new. The civil war is one piece of American history that Chareston has an interesting take on. Some famous sites include the Fort Sumter National Monument, McLeod Plantation, the Calhoun Mansion, and the Nathaniel Russell House.
Charleston has a pretty happening art scene
So, Charleston has emerged in the world as a city where you can grub to your heart's content, take a day trip to some old historical sites, and hit up some beaches, but what else is there? Charleston has been nurturing its very own
art scene
for quite some time. Though it isn't quite as prominent as larger cities, Charleston's collection of art galleries is steadily growing. Thanks to Charleston's economy, investment in fine art is also increasing which in turn, allows its art community to grow.
There is always something to do
Though it isn't as large as some of America's bigger cities, there certainly
isn't a shortage of fun activities to try
in Charleston. Try out one of Charleston's many fantastic restaurants, or visit the Marion Square Farmers Market where you can try out local foods. If you're interested in exploring more of Charleston, go for a bike ride across the Arthur Ravenel Jr. Bridge. Not only will you get some exercise in, but you'll also have an amazing view of the Cooper River. For those searching for something more laid-back to do, try relaxing under the Angel Oak Tree; the tree is believed to be over 1,000 years old and it spans more than 1,700 feet. Regardless of what you choose, Charleston is absolutely guaranteed to keep you on your toes and you'll be sure to find a hidden gem around every corner. Contact Zach Larichiuta and the Lucy Lending Team today and see how we can get you into a home in the Charleston area! 843-469-9010 zach@lucylendingteam.com #charleston #perfect #home #bestplacetolive #realestate #homebuyer #lending #lender # mortgage #financing #trusted #local #loanofficer #loanoriginator #broker