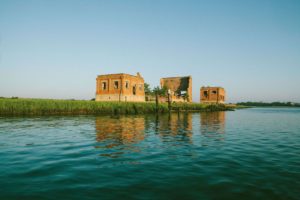 For the third time in a decade, a proposal to develop a prime piece of real estate on Charleston's upper peninsula has fallen apart over access road.
North American Properties had planned to transform the 160-acre Laurel Island site off Romney Street into a $1 billion upscale, mixed-use community. The plan included mixing retail with restaurants, a hotel, meeting space, boat access, single-family homes and apartments as well as biking and hiking trails.
On Monday June 5th, a representative of the Ohio developer said that's not going to happen.
"We have made a decision to discontinue our pursuit of the Lorelei project," managing partner Mark Toro said. "We are not pleased with how things transpired, but we have to move on to other opportunities."
Funding was not the sticking point, he said.
"It was a matter of getting access for the density that was proposed," Toro said. "There was simply a disagreement about how much infrastructure is going to be required to support the project."
It all boiled down to two lanes or four lanes to the island.
The developer wanted to build a four-lane bridge over two rail lines and a marsh. The road would tie in with Cool Blow Street and then intersect at Meeting Street. With the volume of traffic expected to and from the island from thousands of residences, numerous businesses and their employees, Toro said investors would be hard-pressed to support a two-lane access road.
He said city officials believed the traffic volume from a four-lane road would overwhelm the neighborhood near Cool Blow, and Charleston County wasn't willing to provide an easement over a critical parcel it owns.
A city official said an independent traffic study showed the four lanes were not needed.
"There are two other access points to the property," said Josh Martin, senior adviser to Mayor John Tecklenburg.
He pointed to Romney and Brigade streets a few blocks north of the proposed four-lane bridge site as other ways on and off the island.
"While the Laurel Island site may not have been an ideal fit for these developers' very large plans, the city continues to support appropriate development of the upper peninsula and Laurel Island," said Jacob Lindsey, the city's planning director.
He added the site presents a number of challenges, including building atop a former landfill and that the development will require coordination with both the city and county.
"We look forward to a properly-scaled development of this site in the future, which will certainly include improvements to the island's access in the form of new roads and bridges that respect the needs of both Laurel Island and existing peninsula neighborhoods," Lindsey said.
Toro said the Lorelei project would have had multiple access points, but they are all blocked by freight trains at least once a day, sometimes for extended periods, during rush hour.
A county spokesman said talks with the developer and the city involved the sale of its property at 995 Morrison Drive, which houses the Disabilities Board, city magistrates and storage buildings.
"Staff contracted with a consultant to develop a planned development that includes a future right-of-way for the Cool Blow Street extension to bisect the county's property into two distinct areas as required by the city," county spokesman Shawn Smetana said.
He added it's important that the site's development meet the city's guidelines and provide the county the best return on its sale. County Council must sign off on any future plans for the property before the city can consider them.
The developer said the slow pace of government action and its reluctance to see the developer's need for a four-lane road forced it to abandon the project and focus its resources elsewhere.
As residents of Charleston, we feel this conundrum impending on us constantly…the need for growth, housing and infrastructure to keep up with our booming economy and people migrating here to live; while keeping the integrity and small town charm that makes us love where we call home.
If you are interested in purchasing property in our special community, contact Zach and the Lucy Lending Team today to set up an appointment to get prequalified and be guided by the number one locally, trusted and tenured loan officer, Zach Larichiuta.
Zach and the Lucy Lending Team
843-469-9010
zach@lucylendingteam.com
www.charlestonmortgagelender.com
#Lorelei #project #Charleston #chs #developer #development #infrastructure #growth #expansion #failed #landfill #local #news #trusted #lender #mortgage #realestate #zachlarichiuta #lucylendingteam